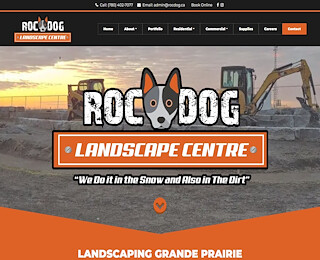 Grande Prairie Landscaping
How can I take care of my Alberta lawn?
Mowing, watering, and fertilising are all things that Alberta property owners can do to keep their lawns in excellent condition. Occasional aeration and de-thatching may also be part of a healthy lawn maintenance program. For optimum results, use sharp mower blades to keep your lawn trimmed to a height of around seven centimetres. This height is just right for promoting lawn growth and discouraging weeds. It's also easier to detect lawn pests when grass blades are between six and eight centimetres high. Be sure the lawn is dry before you start mowing. Deep watering on a regular basis will promote deep roots for a healthy and attractive lawn. Water in the morning to ensure moisture doesn't rapidly evaporate and leave your lawn thirsty. As a general rule of thumb, sloped lawns require lighter watering on a more frequent basis than totally flat lawns, advise environmental experts. If Alberta lawn care seems like too much work, or if you simply don't have time to address your lawn issues, go ahead and hire RocDog Contracting Grande Prairie landscaping services to manage your lawn mowing and yard cleanup.
When should I aerate my lawn in Grande Prairie?
Improve water absorption and nutrient flow by aerating your lawn every time your Grande Prairie landscaping pro says it's necessary. If water runs off instead of moistening your lawn all the way to the roots, it's probably time to call RocDog for lawn aeration service. If knotweed and clover have overtaken your lawn, it's definitely time for lawn aeration. Hard, compacted soil is another sign that lawn aeration is due. Typically, lawn aeration is done in autumn, according to experts. Aeration can be accomplished with machines that drive spikes into the soil or remove little plugs comprised of thatch and tangled roots. Alternately, property owners can wear special spiked shoes to aerate a lawn while walking on it. This technique works best for small lawns. If you're not sure when to aerate your lawn, please speak with a Grande Prairie landscaping professional at RocDog Contracting.
Is a raised bed garden a good idea?
If you want to spare your back while growing a seasonal crop of your favorite veggies, a raised bed garden has plenty to offer. Typically around 18 inches high, a raised bed garden is easier to work than hard ground. Because the surface is higher, you can sit on a small carry-along bench to plant seeds, pull weeds, and manage other gardening tasks. Due to the fact that the soil in a raised bed tends to get warmer sooner, you may be able to extend your growing season. With soil that's looser than compacted earth, you can plant seedlings closer together and increase your garden's yield.
If you'd like a raised bed garden of your own, RocDog has the skills and experience to create a masonry garden bed that will suit your purposes perfectly. When you're ready to know more, or if you'd like a free estimate for Grande Prairie landscaping, yard cleanup, or any other service we offer, please call 780-402-7077
Grande Prairie Landscaping
Related Post
Landscaping in Grande Prairie
Can I grow veggies in Grande Prairie?
If you know when and how to plant, you can grow a variety of garden vegetables as a delicious part of your landscaping in Grande Prairie. The National Gardening Society explains that you can plant seeds to grow broccoli, cabbage, cauliflower, lettuces, and spinach directly into workable ground around the end of April. You might have better success, however, if you start these crops indoors during the first week in March. Once the baby plants are viable, you can move them into your garden. Potato and onion seedlings should be sown in mid-March, as long as the ground is not frozen. If it is, wait until soil temperature is around 60° Fahrenheit. Eggplants, peppers, and tomatoes do best when you start them indoors in March and transplant them to your garden once they are big enough to survive outdoors and all danger of frost has passed. Summer veggies such as corn, cowpeas, squash, watermelons, and gourds may be planted directly into the dirt in mid-May, provided the earth is at least 60 degrees. Get a head start on your winter vegetables when you start them indoors in April and transplant to your garden after frost warnings are no longer in effect.
How long is the frost-free season in Alberta?
The frost-free season in Grande Prairie typically begins on May 18 and ends around September 18, according to the National Gardening Society of Canada. Your window of opportunity for planting is limited, so be sure to ask RocDog Contracting about how to prepare your landscaping in Grande Prairie for optimal growing. By the way, we also do great work with outdoor masonry, fencing, concrete and asphalt driveways, and other aspects of your Grande Prairie landscaping projects.
How can I attract hummingbirds to my yard?
Swift and territorial, hummingbirds can be a wonderful part of your outdoor world. When you incorporate certain flowers and shrubs into your landscaping in Grande Prairie, hummers will be happy to call your yard home. Some of the more popular plantings that are sure to bring hummingbirds to your yard are azaleas, bee balm, begonias, and flowering quince. Coral-bells, fuchsia, honeysuckle, and impatiens are also pleasing to the eye and attractive to hummingbirds. Did you know that hummingbirds are the only birds that can flap their wings to fly backward? It's true. When you plant flowers and shrubs that interest hummers, you can see these amazing aerial acrobats in action for yourself. Of course, hummingbird feeders filled with a sweet sugar solution will also be appreciated by busy little avian visitors.
If you ask RocDog Contracting about your landscaping in Grande Prairie, we can tell you all about the plants, flowers, trees, and grasses that are compatible with our variable Alberta climate. We've helped many people in and around Grande Prairie to beautify their yards and outdoor living spaces, and we can help you, too. Would you like a free estimate? Call 780-402-7077 right now.
If you are looking for commercial or residential lawn care in Grande
Prairie, Alberta Canada, Rock Dog Contracting LTD is a full service
yard care and maintenance company and they even work during the winter
in the snow.

What services does Rock Dog Contracting offer?

For residential customers we offer the following services using eco-
friendly products that are safe for your children and pets. If you are
looking for a full-service lawn care service, we have you covered. If
you like your lawn looking its best, we can help.

·         Lawn mowing

·         Fertilizing and weed control

·         Landscaping, including sod, and flower gardens

·         Shrub and hedge planting and trimming

·         Tree planting and removal

·         Repair and install fencing

·         Spring cleanup

·         Junk removal

·         Gutter cleaning

·         Masonry work

For commercial customers we offer many of the same services but have a
few extras. Of course, we can do the same for private customers too.

·         Exterior pressure washing

·         Concrete, asphalt work

·         Fence repair and installation

·         Weed control and spraying

·         Parking lot cleaning

·         Green space cleanup

·         Masonry work

·         Lease Maintenance

Lawn care in Grande Prairie can be challenging because of the weather,
but we work in the snow too. We are dedicated to keeping your lawn or
building grounds well maintained and looking their very best. Plus, we
are dedicated to using the most eco-friendly products we can find.

What kind of products do we use?

We pride ourselves on using the safest products available for use around children
and pets, plus the products are environmentally friendly. Two great examples
are our flake ice melt and lawn fertilizer.

·         GRM Ice Flake Melter contains calcium chloride and is the
best ice melting combination because of its speed and length of time
it keeps your walkways ice free. Quickly melts ice and is safe to use
on walkways, driveways, gravel, and has a blue dye, (environmentally
friendly and water soluble) so you know where you have previously
applied it.  It comes in a resealable bag, so it won't get
spilled. It is also safe to use around plants when applied correctly.

       46 Lawn Fertilizer, Nitro Boost contains stabilized nitrogen
and releases the plant food slowly for up to 45 days. This produces a
beautiful lush deep green lawn with thick grass blades.

If you are looking for lawn care in Grande Prairie, Roc Dog
Contracting is a great place to consider.



What to look for when hiring a professional lawn service?

·         What is their reputation? The internet has changed how we do
many things and you can read reviews online. This is a good place to
start along with asking friends, family and neighbors.

·         Are they licensed and insured?

·         What trade organizations do they belong to? Belonging to
trade organizations helps companies stay abreast of new products and
improved ways of completing projects.

·         What's their customer service like? This is important
because you want them to care about you and your needs.

We have a "can do" attitude and would love to be your lawn and yard care team.
ROC Dog Contracting
(780) 402-7077
11440 96 ave Grande Prairie, Alberta
View Larger Map
We welcome your comments!